A Labor of Love

Ann Person is keeping busy. She has a few projects under her needle! One of them is something we've known about for quite some time.
Ann has been embroidering away, finishing her blocks for the "Animal Adventure" quilt she is making by Anita Goodesign. This has been a labor of love for Ann for several months, and she's finally finished with the blocks! The next step? she needs to finalize the layout. Ann used a lot of fabric from her stash as well as fat quarters she bought at Keep Me In Stitches.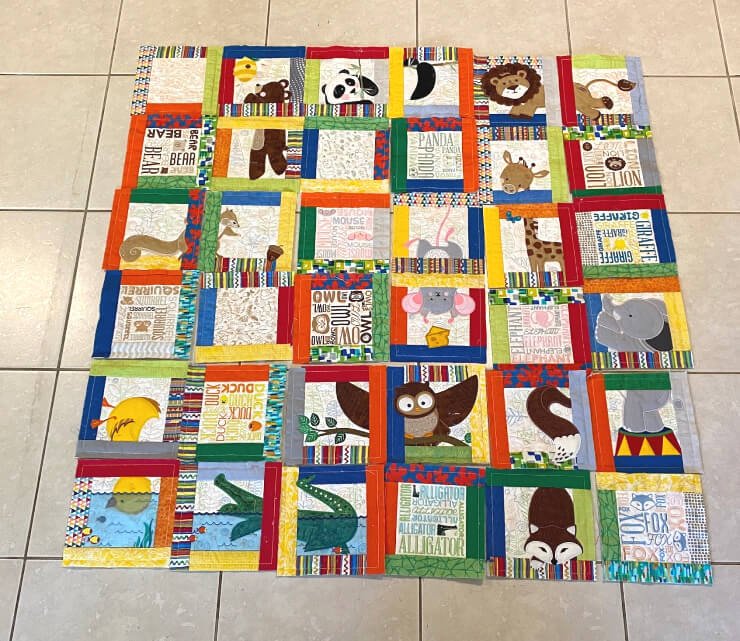 When she started this project, she realized she needed a larger hoop than what came with her Baby Lock Journey. She wanted to make this quilt so much that she purchased the upgrade for her machine. Once it came in, she had the hoop she needed to get started. We can't wait to see the finished product!
Anita Goodesign has SEW many beautiful projects! They are perfect for the stay-at-home-embroidery-aficionado. You can shop the
Anita Goodesign website
between now and April 1 using our special coupon code
KEEPSTITCHES
to receive
30%
off site wide. Here are the rules:
This code will give you 30% off of Anita Goodesign products on their website. You can use it as many times as you like between now and April 1st, as it will expire at 11:59 pm ET. You will enter this in the "Have a Coupon Code?" field at the bottom of your cart. You must click "Apply" for it to take. It can not be combined with items already on sale nor can it be used towards Gift Cards, the All Access club or Stephen Wilson Studio products. Coupon Code: KEEPSTITCHES
A Little Something Special

Carmen DePalma is working on a "little something" for her granddaughter on her Baby Lock Destiny 2. She says, "This In-the-Hoop Zipper Bag is for my granddaughter's sunglasses. The zipper pull is a little vinyl castle. The bag is lined with fleece and the tab is made with double-fold elastic. It also has a key ring so it can easily be clipped to her tote bag."
We think this is such a fun project! We love the detail of the little bows.
What's Next?

Check back with us in a couple of days when we'll see how Sarah's quilt is coming along as well as updates from others in our community working on some really fun projects! We've got great things to share with you!
Don't forget, you can shop the
Anita Goodesign website
between now and April 1 using our special coupon code KEEPSTITCHES to receive 30% off sitewide.
Until then, did you know we're all over social media? You can find us on
Facebook
and
Instagram
as well as
Pinterest
. We would love for you to follow along!
Tags: baby lock, Baby lock destiny 2, baby lock journey, bernina, bernina 770 qe, bernina 770 qe tula pink, bernina tula pink, tula pink
Previous: What's Under Your Needle? Part 2 – Notes From Our Sewing Community
Next:What's Under Your Needle? Part 4 – New Projects and More!